This is Matt Nicholson! He is the founder of the Nicholson legacy. I don't know
why
he is looking directly into a clear glass jar…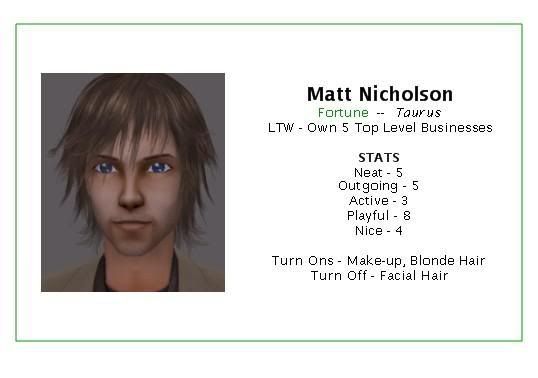 That's him in a Stats box. Like hell I'm going to be able to do that lifetime want.
Especially considering nearly all the money he had was spent building that… shed. Nice view of his neighbours though.
He got a job in the Business Career, since it fits his stats rather nicely.
Of course, he needs some lady love if he wants to have some kind of legacy. This ISN'T the way to get some. I should know.
Matt:
Hello!
Want to make babies with me?
How are you?
Random:
WHAT DO YOU WANT?!
Random:
Oh, oh!
That's
what you want!
Her name's Sophia, and Matt's got 2 bolts with her. I approve for this pairing to happen.
Matt:
You know that woman who looks exactly like you? She's really ugly!
Sophia:
LOLZ YEAH I KNOW!!1!
Sophia invited Matt for an outing, and … a load of teenagers joined them. It seems Sophia is friends only with teenagers… hmm…
(These teenagers will be back in the story)
Dear lord, I'm surprised she didn't EAT Matt (which is ironic, considering she's the one hosting the food-eatingness)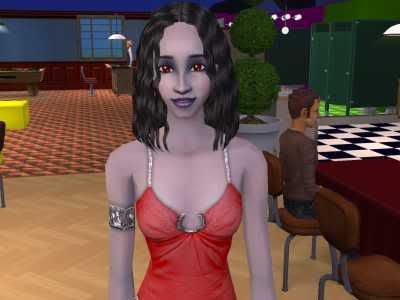 I liked this Vampire – not only does she seem as harmless as a fly, but she's also a member of the Garden Club O_o I presume she does the nightly requests to join the Garden Club.
After a couple of days, Matt and Sophia started GETTING IT ON *ahem* and they fell in love.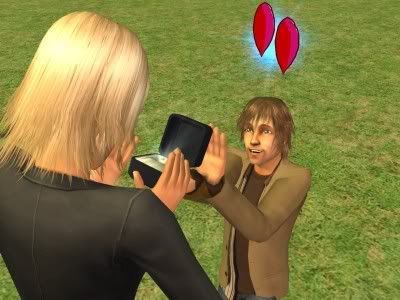 No, he's not the most patient guy in the world.
Matt:
Me + Make out with Girl = MARRIAGE!!1!
Sophia:
OMG IT'S S0OO0O0O SPARKLY!!
That's right, she's a Romance Sim. Fun times ahead.
They did get married, but I lost the picture for it… meh, I'm sure you know what the "I can't afford for a fancy wedding" wedding looks like.
Here's Sophia's stats.
They celebrated marriage with sex. Of course.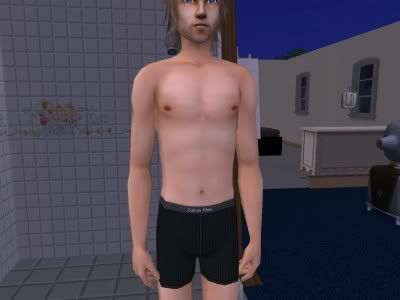 Sexy Underwear Spam!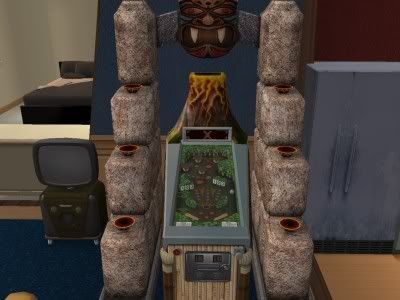 Sophia couldn't find a job in the Culinary, so I made her get a job in the Gaming Career – for the fact they're on hardly any money, this is a welcome addition to the house.
Sophia, being the romance sim that she is, got it on with other people, men and women! This is Natalie Pearson, and she's her second love.
And Shag.
Sophia plays the risky game (note: if you look at the window, you'll see Natalie), lots.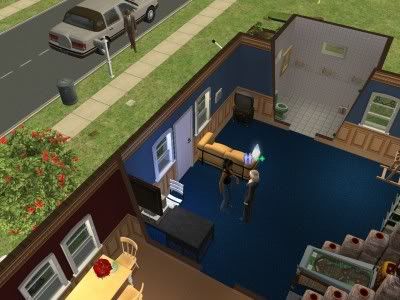 See?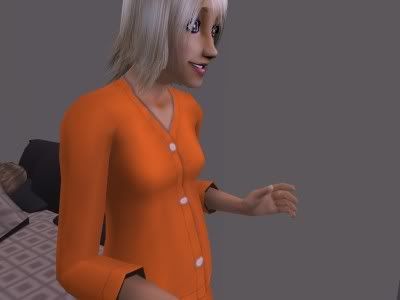 After a few days of settling down in the house, Sophia popped! Her first day of pregnancy… just didn't happen. Yes, I did do "Try For Baby", because you do kind of need offspring for a legacy, but I took nil pictures because nothing happened… anyway, Sophia's preggerz.
Niiiice – you're pregnant with your husband's child, so what do you do? Make out with a teenager while your husband's on the bog. Classy. So that's her third (we might as well keep count)
POP number 2.
She's mighty pregnant, isn't she?
LABOUR TIME!
Matt:
Oh noes! She's giving birth.
Matt:
Crap, I forgot that you get a child at the end of the pregnancy. I'm so st00pid.
Cue the Circle of Life music, THE BABY IS BORN!!1!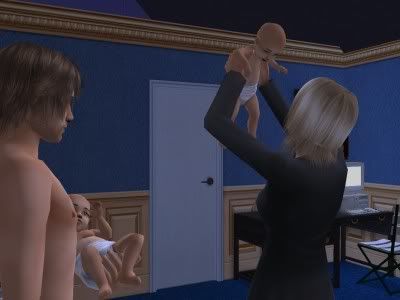 Cue the music again – Matt and Sophia have had twins… *is looking a bit concerned*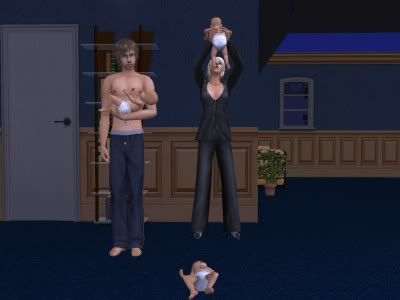 Oh dear me – They've had triplets… This is going to be a barrel of laughs now.
Alex Nicholson – His father's colouring in both hair and eyes.
Katy Nicholson – Again, her father's colouring in both hair and eyes.
Rose Nicholson – Once again, she's got her father's colouring in both hair and eyes.
I was a little bit worried they were CLONES N00B, but they're not.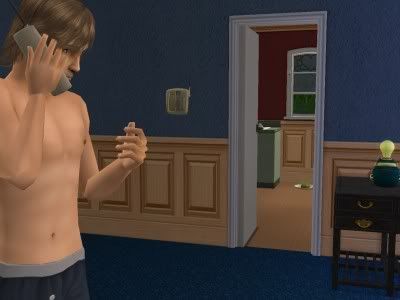 5 Points if you can guess what's happening behind the kitchen wall!
It looks like some things aren't going to change in the Nicholson household, EVEN THOUGH THERE ARE NOW 3 MONSTERS THAT ARE GOING TO DESTROY BOTH ME AND MATT & SOPHIA.
Will the triplets kill Matt & Sophia, or die themselves? Will I give up with a huff because triplets are bastards to look after? Will Sophia continue with her teenager-shagging ways? Will Matt catch any of this teenager-shagging? Will Matt
Join in
any of this teenager-shagging?
All this, and more, in the next part of the Nicholson Legacy xD
This is the Nicholson Legacy, and this will be the first out of god knows how many in Cherry Hills. Hope you enjoy!