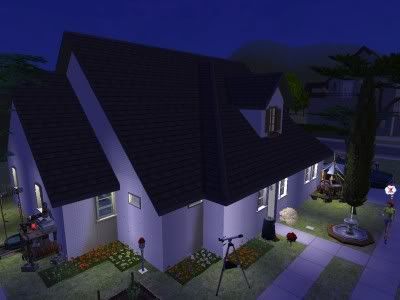 Just in case you were wondering, this is the Nicholson house at the moment.
Make-over for now-gothic Rose – I like it!
Sophia:
Remember when we had triplets?
I bloody do Sophia, _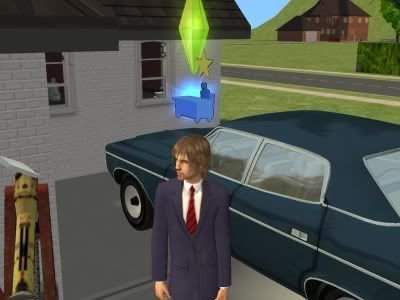 Matt got to the top of the business career.
I gave Alex some new clothes too.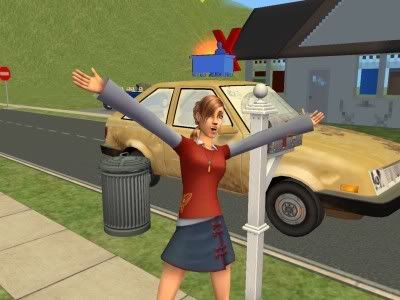 Katy got fired on her first day of work… I guess she didn't like the work?
Oh, here come the waterworks…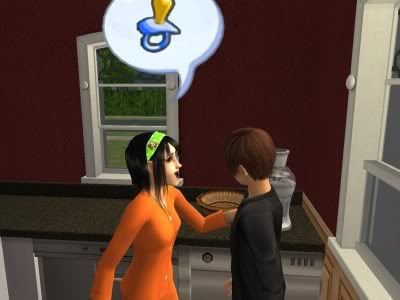 Whad? Why are we congratulating Alex on being born?!
Alex:
It was nothing, really.
Hmm…
Sophia liked gardening lots, so I expanded a little vegetable plot.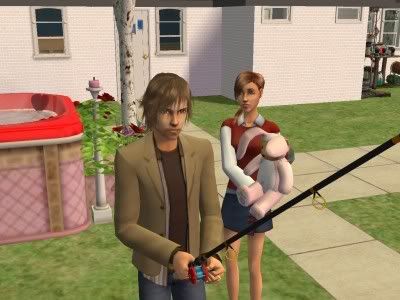 Katy:
HEY DAD, DAD, DAD, LOOK WHAT I CAN DO! DAD!
Matt:
Not now, fishing.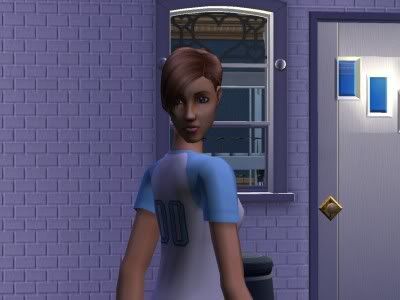 What is up with Katy and her owl-like neck?
Rose:
OMG, NOBODY GETS ME EXCEPT FOR MY CHEMICAL ROMANCE!
LSD TRIP!
SOCIAL BUNNY! I've never had one before, heh. This is Rose's, by the way.
That's right Rose, you say no to
drugs
the Social Bunny.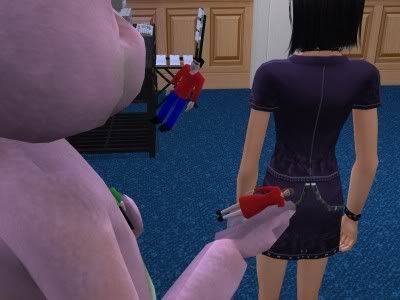 Kids, remember,
LSD and other drugs
The Social Bunny juggles with your life!
Okay, enough with the LSD jokes.
Perverted Social Bunny.
Rose's gooone Craaaaaaaaaaaaaaazy.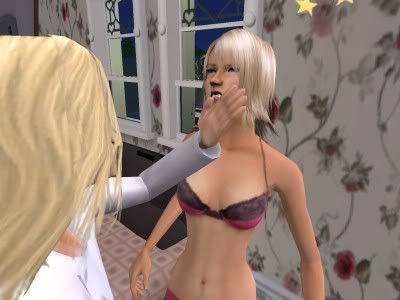 Sophia and Matt had WooHoo while Angel was in the house. D'oh.
Of course, Sophia was going to have none of it.
And now she has none of her diginity, either!
Yes, this is after she beat up Sophia.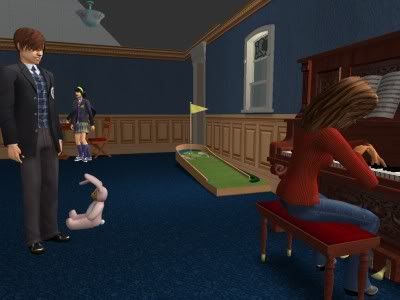 Alex invited this girl over. He was like "W00t".
No no no, Sophia. This is Alex's, not yours.
Go for it, I'm not stopping you.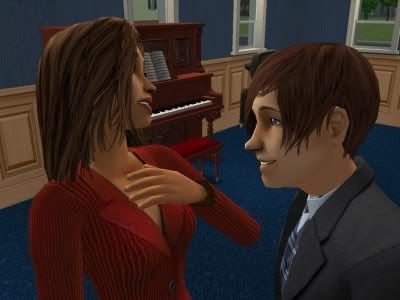 Good lad.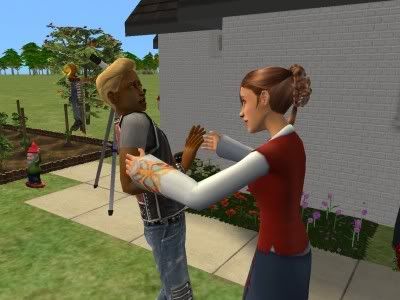 At the same time, Katy fancied this lad. Remember him? Yep, one of Sophia's lovers. This is going to be interesting.
Lol, I like it when Sims talk to their plants.
They had their first fire! AND NOBODY NOTICED IT! Seriously, they just continued to do what they were doing. They don't actually have a memory of it either, all Katy has is a bad memory about burning the food. *headdesk*
Alex and… bugger, I can't remember her name… went on a date.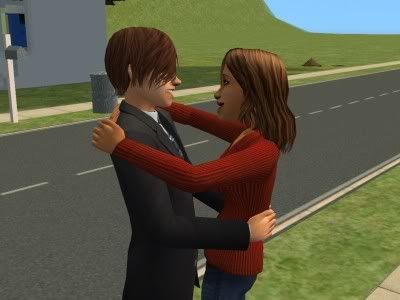 Aww, cute.
First kiss for Alex.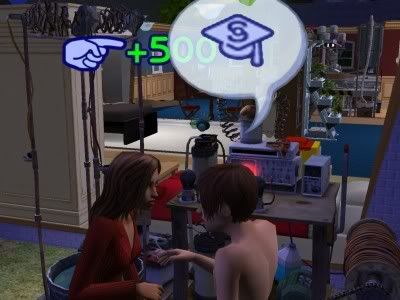 Alex:
OMG, you know my sister, Katy? She got admitted into private school!
Alex's Girl:
LOLZ!!! That's well harsh! Funny tho!!!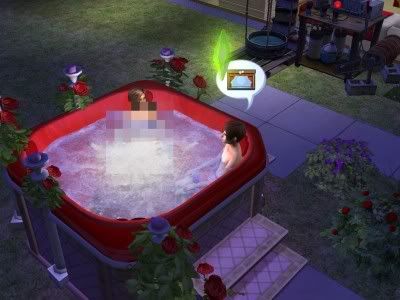 Yes, she is naked.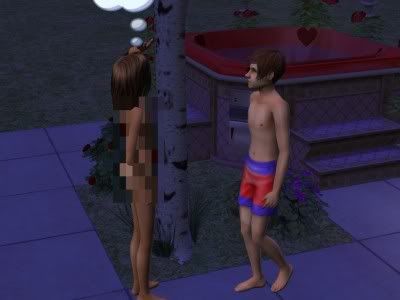 Yes, she's STILL naked. Put some clothes on, you whore!
Shut up Sophia, like you haven't seen naked teenaged bodies before, skank.
OMG YAY, it's my Vampire Garden Club Representive! She didn't actually feel the sunlight until the garden club inspection was over.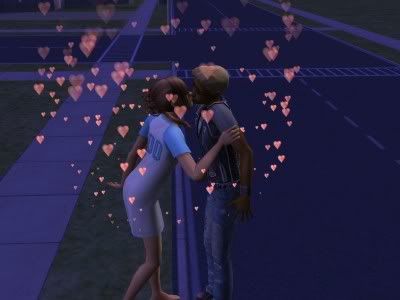 Katy also got her first kiss.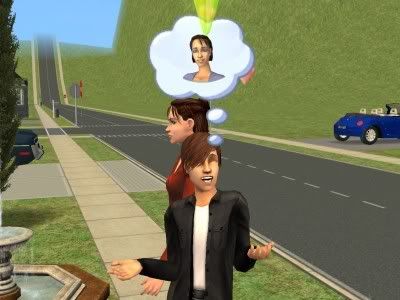 Oh god, that's Carys, Alice's mum. I don't like where this is going either…
Talk about subtle, Alex _
LOL! You wouldn't be able to take him seriously, if he made that face at you when he was shouting at you.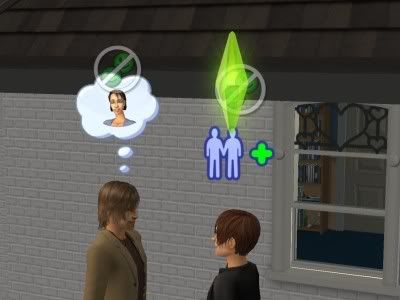 Oh dear, Matt is furious with his son. It's not his fault that you went and had some infidelity sex with someone else.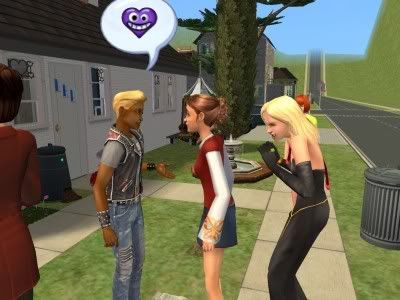 I don't know how to even describe this picture. It looks like Angel's going to kidnap Katy, though.
Synchronised yelling at! A bit too late, she's half way down the road…
Is anyone else getting it where the penguin is randomly appearing in seasons apart from Winter?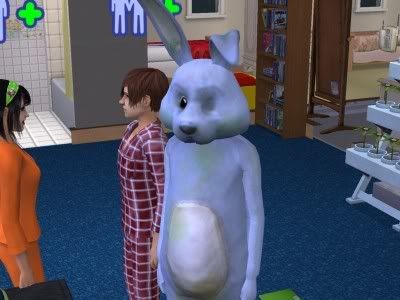 Katy ended up having a social bunny too – I'm a bit negligent about their social needs…
Off they go to College! From left to right; Katy, Alex's girl, Alex, Alice, Rose. They allll need make-overs and new clothes.
That's it for this part, next time – The College Years. Sorry this one took so long, I'll try and be a bit quicker with the next part.
~Comments are appreciated! Positive or Negative (so long as it's constructive), just comment for the hell of it!~